My Date With A Finance Fuckboy And His Freakout
My date with a Finance fuckboy started with drinks at a small local bar. As I walked in, he immediately recognized me. I was very surprised how handsome he was in person but looked younger than what I would have prefered. I thought immediately well this is going to be short and sweet. He was too good-looking. You know, that pretty boy look. Where the guy might be better looking than you. We sat at a four top where we started to do the usual get to know each other chat (boring talk). I think we kinda started syncing when we both said "Same, same but different" at the same time. It was cute. By this time he told me his mother had breast cancer for a second time and wasn't planning on quitting her smoking habit which was a total downer to our conversation. He also told me he was obsessed with football and that was a total turn off since I'm not into sports. I acted supportive when I mentioned we should move to the sofa next to the fireplace where he could watch the game.
After two beers, we left and went to my favorite bar down the street which was playing live music. I started talking to a guy next to us. Made some small talk and before we knew it, he was obsessing with my date and was offering him a high paying job. He also started buying us VERY expensive drinks. Without knowing, I was gone quick! Then we went to a dive bar nearby. Apparently I made him dance with me when no one else was dancing and everyone was watching us. Lol. At some point some other guy was trying to hit on me on the dance floor and our new friend we made, came up to him and said "HEY, she's with him, back off" Lol. It was definitely a night to remember, sad part is I barely remember it.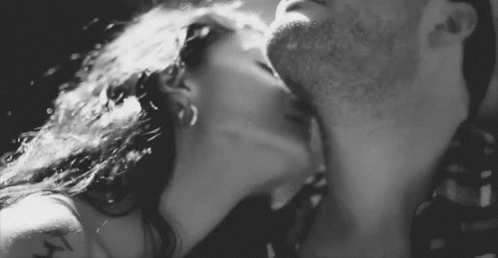 Next morning, he started freaking out he had a hickey on his neck and when I mean freaking out, he's literally online looking up remedies one after the other and telling me he's fucked. It turns out the next day he had a huge presentation to give in the company. He thought it would get him fired if he showed up with a hickey. For the next two hours we spent trying to hide this hickey. I tried some of my make up and gave him lessons on how to apply it. Then I went with him to the pharmacy to help him choose a right skin tone concealer. He purchase like 4 other things to help it go away. We were starving and wanted to eat bbq, so we waited 15 mins until the restaurant opened. While we waited in the car, I applied ice for a few minutes and then rubbed something hard across the hickey. I don't remember what it was, think it might had been a credit card, or comb. I offered to pay for our brunch since I felt super guilty for causing this huge hickey on his neck. Which didn't even look like a hickey, it was a line across his neck instead of a spot. We had a good brunch where we fought our hangover and laughed thru it.
At this point, I felt like I wouldn't see him again even though we were having a good time. It didn't seem like we had much in common and I didn't want to date someone who would freak out to that extend over a hickey. Plus I really didn't think he was interested in me, or attracted to me. I felt older than him, even though he was very successful in his career and spoke as if he was 10 years older than me.
The following days he started hitting me up on snapchat and asking to see me again. I was surprised but thought why not. I wanted to see him but because I was so busy and he was traveling two weeks passed by and we still hadn't seen each other again. Then I started seeing someone else who wasn't as attractive but I had a lot more in common. The new guy knew I wasn't looking for a relationship and that I was openly dating. Therefore I was still exchanging snapchats with Finance guy and one day he sends me a picture of a close up of his face with his ski helmet. He looked like a different person. So I replied asking him if he gained 10 pounds because he looked like a different person. I was expecting an answer like "Oh I've been eating like shit and drinking daily" but instead I got FUCK YOU, I'M SICK. YOU ARE DICK, AND BLAH, BLAH, BLAH….Literally super mean, as if he was trying to punch me with his words. I immediately got flashback of my ex husband so I replied with a short response of "Wow" and blocked his ass!!
My message to him was definitely more of a joke than a serious offensive attack, but I understand how it could be taken the wrong way but I don't think anyone should start cursing at someone in order to defend oneself especially at something so silly.
Sometimes when the other person is too good-looking, they think they are the shit and belong on a pedestal. Avoid fuckboys who ask for nudes on snapchat like this loser. Avoid men who call your dogs ugly!!! Avoid men who can't handle hickeys like real men. Avoid small dicks 😉 and dicks!
And for those still reading, just know the hickey was pretty much gone the next day. He didn't have to use make-up to cover it or come up with some lie to explain the bruise line. He also still has my very expensive compact make- up (which I knew would be a lost once I gave it to him). Lesson learned!